New! Visit the


SCJ Bookstore
In association with Amazon.com ®
Welcome to Sussex County Justice on the World Wide Web!
---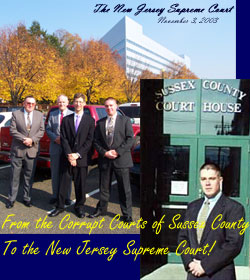 It was during the 1990's that the State of New Jersey had declared war on American gun owners. It was also during this period that radical Islamic terrorists plotted from within New Jersey's borders to kill Americans and cripple our Nation. [N.1] Terrorists were at war with America while the State of New Jersey was oddly preoccupied with waging war on law abiding firearm owners.

One such example of New Jersey's overzealous vigor in the prosecution of American gun owners occurred with the case of Thomas A. Cassidy from 1996 to 2004. It was during this time that the State of New Jersey had brought to bear all of its might against one simple law abiding gun owner. The Sussex County Prosecutor's Office, the New Jersey State Police, the New Jersey Attorney General's Office, the Sussex County Judicial Center, The New Jersey Appellate Division were all focused on prosecuting Thomas A. Cassidy for eight years. All while terrorists remained undetected and plotted to destroy the World Trade Center and the Pentagon. For after all, prosecuting an American gun owner is much easier than investigating and prosecuting a case involving international terrorism. Right, guys?

Sussex County Justice was created on March 3, 2000 in response to concealment and cover ups that occurred amongst police, prosecutors, and judges in Sussex County, New Jersey throughout the malicious prosecution of Thomas A. Cassidy. What began as a "routine" act of police misconduct in the middle of the night of March 14, 1996 had since expanded to include the misconduct of prosecutor's, judges, and many others. Sussex County Justice was a case that should have been dismissed at trial. However, in an effort to "get their man" Sussex County Justice officials chose to embark upon an elaborate conspiracy to alter the facts to suit their own political ambitions. It is an embarrassment to the United States of America that corruption in New Jersey is so prolific and systemic. Even the New Jersey Appellate Courts had embraced and upheld the misconduct of Sussex County Justice officials. It wasn't until March 30, 2004 that their conspiratorial malicious prosecution had ended. It was then that the New Jersey Supreme Court had unanimously decided 7-0 to reverse and vacate all of the wrongful convictions that Sussex County Justice officials and the State of New Jersey had worked so hard to secure for eight years.

All while 9/11 terrorists plotted and lived among us remaining undetected.

This site had been created to let the world know about the dirty little secrets that Sussex County Justice officials have meticulously strived to keep within the geographical boundaries of their own little corrupt county. Indeed, you will witness firsthand a glimpse of a "good-ol'-boy" criminal justice system network in operation.

Below we have included a brief synopsis of each section contained within the site. We recommend that you get yourself a cup of coffee, sit back, and relax as we take you through one mans experience of eight years of systemic corruption and misconduct at the hands of the Sussex County Justice system!