We DO NOT Support The Stillwater Police!
---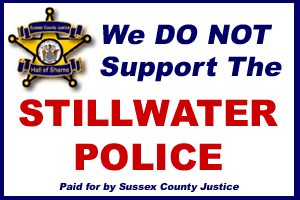 On November 2, 2004 residents of Stillwater Township, New Jersey will have an opportunity to vote to disband the Stillwater Police Department in favor of having the New Jersey State Police provide professional police coverage.
We remind voters that the Stillwater Police have been nothing more than a nuisance to Township residents and a waste of the taxpayers money. Have you been pulled over for driving 27 mph in a 25 mph zone? How many of you have been harassed by these unprofessional clowns? Need a reminder? Don't forget to visit our Hall of Shame.
Do you really need to have your taxpayer monies spent on having these Barney Fifes sitting in the coffee shop in Swartswood?
Stillwater residents will be much better served with police coverage by the New Jersey State Police; a professional police organization.
Remember to vote to DISBAND the Stillwater Police Department on Tuesday, November 2, 2004!
Case Update- Stillwater Township has voted to expand the police department and the Barney Fifes continue to harass local residents and spend much of their time in the local coffee shop.

May 22, 2008. Case Update- Stillwater Township Police Officer John Schetting has killed himself today with a self-inflicted gunshot from a handgun. One would think that the residents of Stillwater would rethink their decision to expand a police department full of unstable officers. Let us not forget Stillwater Police Officer George Johnson who unsuccessfully attempted suicide on June 4, 1999. What other crimes would a police officer willing to take his own life be willing to engage in? We told you so. You didn't listen.
Our commentary removed from: http://www.nj.com/news/index.ssf/2008/05/stillwater_officer_dies_from_s.html
Posted by SCJustice on 05/22/08
If John Schetting was such a great guy, then why did he kill himself? And leave a family behind? The truth is he was not a great guy. A great guy doesn't take his own life.
John Schetting simply succeeded where Stillwater Officer George Johnson didn't when he tried to kill himself.
Schetting's suicide should lead to an examination of why a Stillwater Police Department is necessary at all. The real crime is with all of the misfits that have sucked off of the taxpayers.
The Stillwater Police should be disbanded. They are unnecessary and irrelevant, except when it comes to suicides and violating the constitutional rights of citizens.
P.S.
John Schetting a hero? Please elaborate.
For I met a hero last weekend. His name is Marcus Luttrell. A U.S. Navy SEAL who was the Lone Survivor (NY Times bestseller) in Afghanistan after his mission was compromised and all of his teammates were killed. In fact, it was the deadliest day in U.S. history for the U.S. Navy SEAL's. You all should read the book. That is a hero.
Sure we grieve for the family of John Schetting, but while John was rescuing the "skunks" and violating the rights of others there is real heroism going on outside of the confines of Stillwater, N.J.
Posted by SCJustice on 05/23/08 at 10:13AM
Now come on now, Star Ledger, let these good people know the truth about John Schetting. Let's stop removing our postings now.
Update- 05/23/08 The Star Ledger has banned Sussex County Justice from commenting on the suicide of John Schetting. Unlike The Star Ledger, we believe in free speech and provide a link above to their website where they support hate speech directed towards Sussex County Justice, while removing our commentary above. We believe that you should read it. There the good folks of New Jersey opine and suggest that "good men" commit suicide and Thomas A. Cassidy (a boy) should die! Insightful into their minds indeed! And an interesting look at the bias of The Star Ledger. Enough. Let the family grieve. But remember we will be watching all of you and reporting to the world. That is what really troubles you. And makes you all so hateful.
Update- 05/25/08 It appears that the The Star Ledger truly wants to control and censor the information available to the public! How curious that any commentary that does not agree with them gets deleted! We thought that Americans enjoyed free speech. It is clear that New Jersey and its newspapers chose to act like Communist China! Thank you glockgirl for contacting us so that we can publish your comments. If you too have had your comments deleted by the The Star Ledger and want them included please contact us at the e-mail address below. We will give you an opportunity to exercise your Free Speech rights even though the State of New Jersey seeks to curtail and destroy your rights.
Posted by glockgirl on 05/25/08 at 5:50AM
We applaud Sussex County Justice for reporting on issues of police corruption in Sussex County and New Jersey.
It sounds like the truth isn't very popular in Sussex County. Thank you Tom for having the guts to publish the truth about our police!
Keep defending our freedom and liberty no matter how unpopular you may be portrayed to be!
Posted by glockgirl on 05/25/08 at 8:38PM
Wow! Sussex County Justice is proving to be a more newsworthy organization than the police cheerleaders at The Star Ledger who keep censoring and deleting our free speech! At least Sussex County Justice links to ALL points of view. I never thought that I would see the day!
Update- 05/28/08 Very impressive. Sussex County Justice agencies and The Star Ledger have waged quite the psychological warfare campaign against this website and Thomas A. Cassidy. Your fictitious commentators have alleged a whole plethora of unfounded charges that Tom has supposedly engaged in! Tom harasses and beats up women, Tom killed John Schetting and simply made it look like a suicide, and today it has been alleged that Tom beat someone up so badly several years ago that it required stitches! Who was that supposed to be in your fantasy world? Poor John Schetting can not even rest in peace with all of your nonsense!
May 24, 2009. The misfits of the Stillwater Police continue to try to justify their existence in Stillwater. Due to staffing issues (suicides, suicide attempts, and officers quitting), their hours have been reduced to patrol between 7 a.m. and 7 p.m. The New Jersey State Police patrol during the evening hours. Not too long ago the Stillwater Police once again proved that they are not needed in Stillwater.
A man allegedly barricaded himself in his home in Stillwater and threatened to harm himself. It was alleged that the perpetrator had a gun. How did the Stillwater Police handle this incident? They called in the New Jersey State Police to handle it for them!
There is no need for the existence of a Stillwater Police Department. You can take care of yourselves Stillwater. And when you have an emergency you can call in the New Jersey State Police to assist you just like the costly Stillwater Police does for you now!
And the Stillwater Police Department? Go out and get a job! Earn a living, like the rest of America! You will feel much better about yourselves than you will sucking off the taxpayers of Stillwater. It has worked out well for many of your officers who have already left!

June 10, 2009. Stillwater Police Chief Anthony Kozlowski has admitted to having knowledge of his officers photographing vehicles that display a bumper sticker that reads "New Jersey State Police & Stillwater, Perfect Together".
Moreover, Kozlowski himself admits to taking photos of vehicles displaying this sticker for "investigative purposes". Kozlowski acknowledged this conduct in a Stillwater Township Committee meeting (Click here to listen) where residents expressed outrage over these latest acts of police intimidation and harassment.
Sussex County Justice has also learned that several members of PBA Local 138 attended this meeting as a "show of force" to intimidate local residents who dare question the arguably unconstitutional actions of the Stillwater Police. What a bunch of little high school bullies!
Clearly, the Stillwater Police Department does not support the First Amendment rights of Freedom of Speech and Freedom of Expression contained within our Bill of Rights. The Stillwater Police Department should be disbanded in favor of the New Jersey State Police.